By Dylan Greenwell
For a while, Hayes Valley was a normal San Francisco Neighborhood. A corner store, Walgreens and a Blue Bottle are among the few longest standing places in Hayes Valley. Now, Hayes Valley has slowly transformed itself into an up-and-coming neighborhood. Proving itself to be able to adapt to the new ways of the 21st Century.

From shopping in a high priced clothing store to foods and dessert, the new Hayes Valley is turning out to be a new and exciting place to visit and explore in the city. So, here's your guide to see what you can find in Hayes Valley.
Patricia's Green

A little patch of green set in the middle of a busy area. Here, you can find benches, picnic tables, a rope play structure and enough grass for your dogs to run around. Although, the main attraction is a forever changing art exhibit set right in the middle of it. It changes every 6 months, and at night, glows different colors.

Smitten Ice Cream

Sitting across from Patricia's Green is Smitten Ice Cream, which has been open since 2011. Though always busy, their homemade and ever changing ice cream is worth it. From homemade waffle cones to changing toppings that can range from sprinkles to brown sugar caramel, Smitten has many options for anybody's taste. Seating can be found in Patricia's Green or outside of Ritual Coffee.

Ritual Coffee Roasters

Known for their pour overs, Ritual Coffee came onto the scene in 2011. Many people found it due to their shorter lines and convenient seating. It shares a renovated storage container with Smitten. Quick tip: grab a scoop of ice cream from Smitten and a shot of espresso from Ritual to create your own affogato.

Patxi's Pizza

Set on Hayes Street, Paxti's Pizza is known for their deep dish pizza and vegan/vegetarian options. Their simple menu consists of soups and salads, deep dish, thin crust, sandwiches, dessert pizzas and more. The amount of seating is limited, but the pizza is worth the wait.

Souvla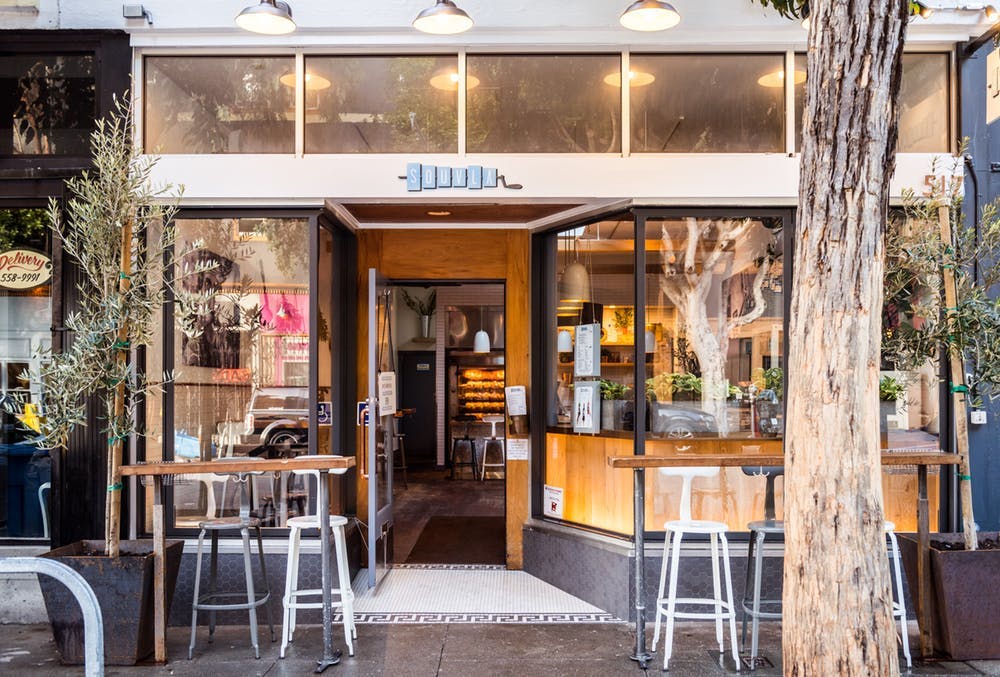 Souvla is a modern Greek place also on Hayes Street. They are known for their homemade rotisserie chicken, popular greek fries and their frozen greek yogurt. This is their first location opened in 2014. Since then, they've expanded and opened more around San Francisco.

Miette

Miette, a bright pastel pink building, sits on Octavia street. Known for their baked goods and candy, they tend to get a lot of business due to their desserts based on pastrissies of Paris. Their macarons and cupcakes are always a fan favorite, along with their ice cream sandwiches they make in the summer.

Azalea

Azalea, a San Francisco based store, opened their flagship shop in 2003. They carry independent designers as well as popular well known brands. They can get a little pricey but the brands they sell reflect that with good quality. Set on Hayes Street, Azalea remains a popular shopping place to this day.

Blue Bottle Coffee

Set in an alley off of Gough street and Octavia street, this small little shop is perfect for grabbing a quick cup of cold brew or their popular New Orleans style coffee. They've been at this spot since January 2005. They have a minimal menu but continue to draw long lines of people due to their service and coffee quality. Along with prepackaged food, they also have a small but delicious bakery section.

20th Century Cafe

Opened in the spring of 2013, 20th Century Cafe has become a popular location for desserts. Owner and chef, Michelle Polzine, took inspiration by traveling through the cities of Vienna, Budapest, and Prague. They have everything from breakfast, lunch, and desserts, to coffee and even a wine list.

Straw

Straw is only open on Saturday and Sunday but due to their unique food, making a trip over is worth it. They're known for their donut burger and fried chicken and waffle monte cristo. Their restaurant has accents of carnival throughout including a tilt-o-whirl booth.

Undefeated SF
Starting off as a Huf store, Undefeated has become the location to get the newest, popular shoes ranging from vans, nikes, converse and more.


Isotope Comic Book Lounge

Isotope is a mix of lounge, gallery and comic book shop. Known for holding events and their wall of signed toilet seats, Isotope is a long standing resident in Hayes Valley. The staff is amazing, from photographers to EFX artists, they know what they're talking about. They've been voted best comic book shop from 2002-2018.