By: Quinisa Roberts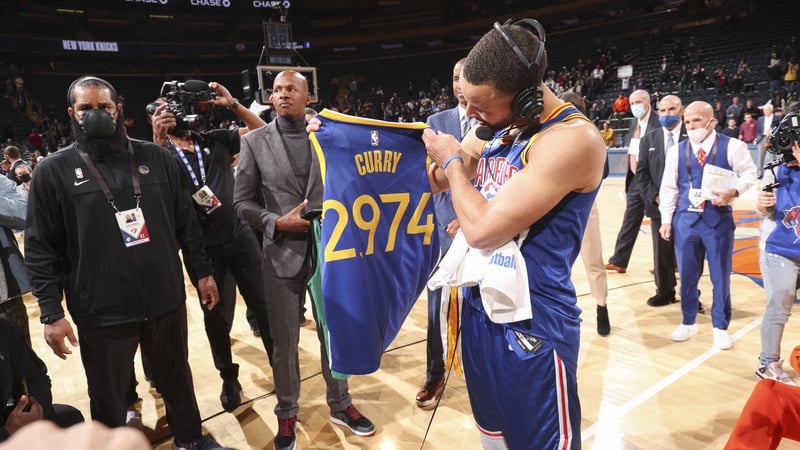 Throughout his career, Stephen Curry made it known that he is the NBA's greatest three point shooter. On Tuesday night, he made it official.
Steph Curry makes groundbreaking history by breaking the all time 3-point record, passing former player Ray Allen who was in attendance at the game. He needed only 2 three pointers to break the record, heading into Madison Square Garden against the New York Knicks. He made the historic three pointers both in the first quarter.
His parents, Sonya and Dell Curry, teammates, and fans were all in attendance to support and congratulate him. As attendees at Madison Square Garden stood and cheered, Steph was visually emotional as he embraced his teammates. They were definitely tears shed in the crowd with a moment of celebration for the 33 year old legend. NBA reporters later claimed that "no one will touch [his] record" and the game "is forever changed thanks to Stephen Curry." Ray Allen, who was interviewed after the game, stated that Curry "set a new standard for generations to come".
At the end of a well deserved Warriors victory, overcoming the Knicks 105-96, Curry was given his jersey (as seen in picture above) with 2,974 which is the new record that was broken by him. NBA players that have played with and/or against him have congratulated him on social media platforms, such as Twitter and Instagram.
At the post game interviews, Steph was asked a lot of questions on how he felt about making history in a place like Madison Square Garden. "I've been thinking about this number for a long time," Curry said. "In basketball history, this is pretty special. These two legends [referring to Ray Allen & Reggie Miller] — I watched them growing up and understood what it meant to shoot the ball because of them and my dad. Full-circle moment, man."
The celebration didn't end on the court, however. Steph and his fellow teammates celebrated the victory in the locker room and gifted Andre Iguodala, Draymond Green, and Klay Thompson (who was not in attendance due to being in the Santa Cruz G-League) Rolexes, since they all had an outstanding number of assists which led him to breaking the record. Kevin Durant, who won two championships with Curry and also had a huge number of assists, wrote on Twitter "send the rollie". It is unknown if Durant was serious or if this tweet was out of jest.
This will definitely be a season to remember for the Warriors and their fans, with Klay Thompson's nearing return, the earliest set date being around December 28th.